This Saturday November 6, 2010, St Armands Circle will hold its annual Ferrari Owners Club Car show. The event takes place in the beautiful Circle Park from 10 am to 3 pm. Admission is Free.
Over 75 Ferrari's will compete for the coveted prize of "Best of Show.  Although the competition is on for Ferrari's, there is usually a variety of other exotic and luxury cars on display.
For more information, contact Mark Reinecke at 727-525-1901 or visit the Ferrari Owners Club of Florida website at: http://www.focfloridaregion.com
St Armands Circle
Plan on making a day out of this special event. There is plenty to do on the "Circle." St Armands Circle is home to over 140 unique shops and specialty stores including gift shops, fine jewelry, designer fashion, home accessories, cafes, lounges and a variety of restaurants.  After a long day of shopping, relax and enjoy a massage or facial at one of the spas or salons. What a great way to spend a Saturday!
Directions & Location:
St Armands Circle is located just across the John Ringling Causeway from downtown Sarasota.
From I-75, take Sarasota exit #210 (Fruitville Rd), then West to US 41. Go South 2 Blocks and take the John Ringling Causeway over Sarasota Bay to St. Armands Circle.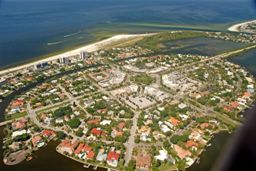 Visitors from all over the world arrive in Sarasota Florida and head to St. Armands Circle to browse shop and dine.  St. Armands is just two bridges across Sarasota Bay heading West passing Bird Key from downtown Sarasota.
A tropical paradise with beautiful statuary throughout the Key, development of St. Armands began in the 1920s.  Legendary circus magnate, John Ringling purchased the property in 1917 and envisioned residential properties; a palm lined shopping center with a center park.
Ringling's efforts at establishing St. Armands as residential and shopping area were diminished in the 1920s as the depression worsened, and he could no longer afford to keep the project going as property sales sagged after the first short sales boom.  In the 1940s, St. Armands interested a few investors, but normal business did not really resume on St. Armands Circle until the mid 1950s.
Today St. Armands Circle is vibrant and bustling.  Ringling's influence and ideas are still evident on the Circle.  The Center Park remains with over 100 specialty shops, cafes, restaurants and ice cream parlors circling this area of historical remembrance of Sarasota's circus roots.  Throughout the St. Armands residents and visitors enjoy beautiful Italian statuary from Ringling's own collection.  There's hardly a corner on the Circle without a perfect Ringling statue.
St. Armands Circle is a destination stop for a Sarasota visit.  Shopping, arts and crafts shows, antique car exhibits, concerts in the Park are a part of the experience on this famous Key. The area surrounding the circles is home to a wonderful selection of waterfront homes and condos. St Armands real estate is very desirable.
Sit on the Circle and watch people, shop for treasures from the sea, sip java at an eclectic café, or dine at a European style restaurants.  St. Armands Circle is a must stop for your Sarasota visit.