Beach lovers, rejoice! Florida International University professor Steven Leatherman has finally confirmed the secret that so many of our Sarasota residents have already known: Siesta Beach has been named the #1 Beach in the United States in the annual 2011 "Dr. Beach" survey.
Siesta Beach, which is located on over 40 acres of the Siesta Key barrier island, has been the runner-up in Leatherman's rankings the past two years and was third in 2008, according to cbsnews.com, which praised Siesta Beach's "pristine conditions," complete with "almost pure quartz crystal, brilliant-white sand" and ""warm, emerald waters." The sand is cooling on your feet even during the hottest of summer heat waves, and has been recognized as being the whitest sand in the world since 1987.
For Sarasota residents, such recognition contributes to an already-spectacular reputation that the Sarasota area has earned. The same reputation has drawn beach-combers and vacation lovers from across the country. Now, more than ever, the beaches of Siesta Key, Longboat Key, and the Sarasota area provide a relaxing getaway for anyone who may be looking for a place to toss some crystal-white sand through their toes, as well as for those who may be looking for a piece of valuable Siesta Key real estate.
If you are planning a relaxing day at Siesta Beach, plan to arrive early! According to their website, most of the 800 parking spaces fill up rather quickly. Walking, bike-riding, skating, or carpooling are great, earth-friendly alternative methods for visiting Siesta Beach—made all the nicer by the gentle ocean breezes. The beach includes amenities such as; picnic tables; a 20-station fitness trail; beach volleyball; restrooms; and tennis courts. It is handicap-accessible, and lifeguards are on duty year-round for the safety of swimmers and sunbathers.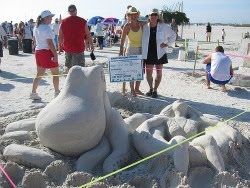 Siesta Key will be busy this weekend as spectators of the this weekend's Siesta Key Crystal Classic Master Sand Sculpting Competition on Siesta Beach will be out to see master sculptors and local sculptors shape fabulous creations.  The featured centerpiece is a 6-foot-tall, 300-ton sand masterpiece with the logos of the event sponsors.
Today, Thursday, November 18 is the kickoff day for the Siesta Key Crystal Classic Master Sand Sculpting Competition that will run through Sunday, Nov. 21.
$18,000 of price money is up for grabs by eleven teams of two sculptors competing. This Siesta Key event includes live music, hands-on sand sculpting classes, and an amateur sand sculpting competition.  There is also a vendor village for local businesses.
Mote's Sea Turtle Conservation and Research Program will receive the proceeds for the sand sculpture competition.
Tickets are available for an up-close view of the sculptures.  For more information visit: www.mote.org/crystalclassic.